LEAN AND GREEN BUFFALO CHICKEN SPAGHETTI SQUASH BOATS
For all the devoted Buffalo Chicken fans out there, a tantalizing and healthier rendition awaits your taste buds. Behold the Lean and Green Buffalo Chicken Spaghetti Squash Boats—a delectable treat that captures the essence of the beloved buffalo chicken flavors while aligning with your wellness goals.
Savoring Autumn's Bounty with a Twist
As autumn graces us with its vibrant palette, our culinary aspirations turn to wholesome comfort. Enter the spaghetti squash—a golden-hued gem that beckons with its visual allure and nutritional promise. Beyond its striking appearance, spaghetti squash dons a unique mantle in the culinary world. It deftly steps into the role of traditional pasta, embracing sauces with grace while delivering a low-carb, low-calorie, and nutrient-rich profile.
A Nutritional Oasis in Every Bite
Beneath its inviting surface, spaghetti squash harbors a wealth of essential vitamins. Rich in Vitamin C and vitamin B-6, it becomes not just a canvas for culinary creativity but a source of health-boosting nutrients. With a mere 42 calories and 10g of carbs per cup, it masterfully fuses taste and nutrition. Within this carbohydrate count, 4g are natural sugars, balanced by 2g of dietary fiber—culminating in a mere 8g of net carbs per cup. This is a tribute to smart eating without compromise.
A Journey into the Heart of Flavorful Wellness
For those who crave the fiery allure of Buffalo Chicken, our Lean and Green recipe redefines satisfaction. Picture this: tender shreds of chicken harmonizing with the iconic buffalo sauce, all nestled within the embrace of spaghetti squash "boats." This culinary innovation doesn't just celebrate taste; it celebrates your well-being. By ingeniously weaving vegetables into the mix, we ensure a nutritious journey that doesn't sacrifice an ounce of the Buffalo Chicken experience you adore.
The Lean and Green Buffalo Chicken Spaghetti Squash Boats are more than a meal; they're a testament to culinary ingenuity. With every bite, you're indulging in the flavors you treasure while consciously nurturing your body. As fall envelops us, these boats sail us through a sea of flavors, offering a satisfying and health-conscious treat that every Buffalo Chicken enthusiast will relish. Dive in, savor the moment, and let the Lean and Green journey begin!
OPTAVIA Counts per Serving:
1 Lean

1 Healthy Fat

3 Green

1 Condiment
Difficulty – Easy

Servings – 4

Cooking Time – 45 MINUTES

Prep Time – 30 MINUTES
INGREDIENTS FOR LEAN AND GREEN BUFFALO CHICKEN SPAGHETTI SQUASH BOATS
2 small spaghetti squash

18 oz cooked, shredded chicken breast

1½ cups shredded cabbage

4 oz reduced-fat, shredded cheddar cheese

½ cup diced green onions

½ cup hot sauce

¼ cup + 2 Tbsp reduced-fat ranch dressing
INSTRUCTIONS FOR LEAN AND GREEN BUFFALO CHICKEN SPAGHETTI SQUASH BOATS
Preheat oven to 400°F. Prepare the spaghetti squash; cut each squash in half, and remove seeds and pulp strands. Place each spaghetti squash half face down on a foil-lined baking sheet, and bake for 40 to 45 minutes, until easily pierced with a fork. When squash is fully cooked, flip in the baking dish so that it is now skin-side down. Lightly scrape flesh with a fork to create spaghetti-like strands; measure out 4 cups of squash and save any extra for a later meal. Place spaghetti squash shells back on the baking sheet, and set aside. Reduce oven temperature to 350°F.
In a large mixing bowl, combine the 4 cups of cooked squash with remaining ingredients.

Stuff each spaghetti squash shell with half of the mixture, and place baking sheet back in the oven. Bake for 15 to 20 minutes, or until heated through.
Per Serving: 400 calories | 49g protein | 18g carbohydrate | 13g fat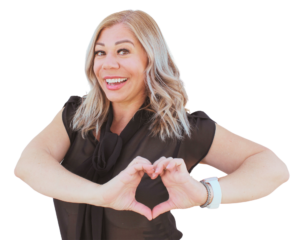 Andrea Argy is a Michigan State University graduate with over 20 years of experience in corporate America. Today, she is a Manifestation, Mentor, and Weight Loss Coach, breaking conventional norms by leaving her office life behind to travel full-time across the United States in an RV. Her mission is to help others achieve mental and physical wellness, empowering them to manifest their dreams and create healthier lives.