LEAN AND GREEN CHICKEN CUTLETS WITH CREAMY PESTO SAUCE
Indulge in the culinary delight of our Creamy Pesto Chicken Cutlets—a gastronomic masterpiece designed to bring joy to your family dinners. In the hustle and bustle of modern life, we often yearn for meals that are not only quick and easy but also burst with flavor, and this recipe is your answer.
Picture this: tender, juicy chicken cutlets adorned with a luscious, velvety pesto sauce, creating a symphony of textures and tastes that will tantalize your taste buds. The best part? You can whip up this scrumptious masterpiece in a matter of minutes, making it the perfect solution for those busy weeknights when time is of the essence, and yet you refuse to compromise on culinary excellence.
This culinary creation is not just a meal; it's an experience—a journey that takes you through the rich, aromatic basil-infused world of pesto, and the creamy, luxurious realm of a well-balanced sauce. Each bite is a delightful revelation, a testament to the idea that a quick dinner need not sacrifice taste and quality.
As you savor each forkful, you'll find yourself immersed in a symphony of flavors—tangy basil, nutty Parmesan, and the mild creaminess of the sauce all perfectly complementing the succulent chicken cutlets. It's a harmonious fusion that will leave your family asking for seconds.
So, the next time you find yourself in need of a quick, delightful dinner that the entire family can enjoy, remember our Creamy Pesto Chicken Cutlets—a culinary masterpiece that transforms ordinary evenings into extraordinary dining experiences. Elevate your weeknight dinners and relish the joy of a meal that not only nourishes the body but also feeds the soul.
Preparation Time: 20 mins
Total Time: 20 mins
Servings: 4
Yield: 4 servings
1 pound chicken cutlets

¼ teaspoon salt, divided

¼ teaspoon ground pepper, divided

1 tablespoon extra-virgin olive oil

½ cup finely chopped red onion

½ cup dry white wine

½ cup heavy cream

¼ cup pesto

1 medium plum tomato, chopped

2 tablespoons chopped basil
INSTRUCTIONS FOR LEAN AND GREEN CHICKEN CUTLETS WITH CREAMY PESTO SAUCE
Season the Chicken Cutlets:
Start by seasoning your chicken cutlets with 1/8 teaspoon of salt and 1/8 teaspoon of pepper. This will add a burst of flavor to your dish.
Sear the Chicken:
In a large skillet, heat the extra-virgin olive oil over medium-high heat. Once the oil is hot, add the chicken cutlets and cook, turning them once, until they are beautifully browned and cooked through. This should take about 6 minutes. Once done, transfer them to a plate.
Sauté the Red Onion:
In the same skillet, add the finely chopped red onion and cook for 1 minute. The aroma of sautéed onions is irresistible and will start filling your kitchen!
Deglaze with White Wine:
Turn up the heat to high and pour in the dry white wine. Cook while scraping up any browned bits from the bottom of the skillet. The wine will infuse the dish with a delightful flavor. Let it simmer until most of the liquid has evaporated, which takes about 2 minutes.
Add Cream and Seasoning:
Reduce the heat to medium and stir in the heavy cream, any accumulated chicken juices, and the remaining 1/8 teaspoon each of salt and pepper. Let this creamy mixture simmer for 2 minutes, allowing the flavors to meld together.
Incorporate the Pesto and Tomatoes:
Stir in the pesto for that classic Italian basil and garlic goodness. Then, add the chopped tomatoes, bringing a fresh and juicy element to the dish. This combination is pure heaven.
Reunite Chicken and Sauce:
Return the chicken cutlets to the skillet, ensuring they are fully coated in the creamy pesto sauce. Cook until the chicken is warmed through, which takes about 1 more minute.
Serve and Garnish:
It's time to plate your Creamy Pesto Chicken Cutlets! Divide the chicken and sauce among 4 plates, and don't forget to sprinkle them with the fresh, aromatic basil. It not only adds a pop of color but also a burst of fragrance.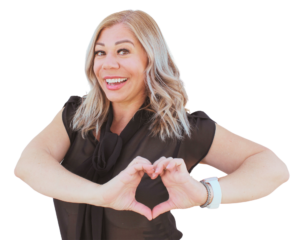 Andrea Argy is a Michigan State University graduate with over 20 years of experience in corporate America. Today, she is a Manifestation, Mentor, and Weight Loss Coach, breaking conventional norms by leaving her office life behind to travel full-time across the United States in an RV. Her mission is to help others achieve mental and physical wellness, empowering them to manifest their dreams and create healthier lives.